Discover the Joys of Painting With Gouache with self-paced courses.

I know gouache can be challenging as a beginner.
I've been there.
It's hard to get the consistency right. It always feels too thick or too watery.
Colours end up drying different from you had expected.
Colour Mixing is always a hassle to figure out.
And when you try layering the paint, you end up lifting up the colour below. 🙈

But, once you figure it out, OMG! It can be one of the most satisfying mediums to paint with.
I want you to experience that joy and fall in love with gouache like I did.
That's why I created these courses.

"I've never quite grasped color theory and have never taken time to experiment with color mixing or making my own color charts. This class was incredibly informative and just what I needed. I can't wait to put what I learned to use!"
- Heidi Burke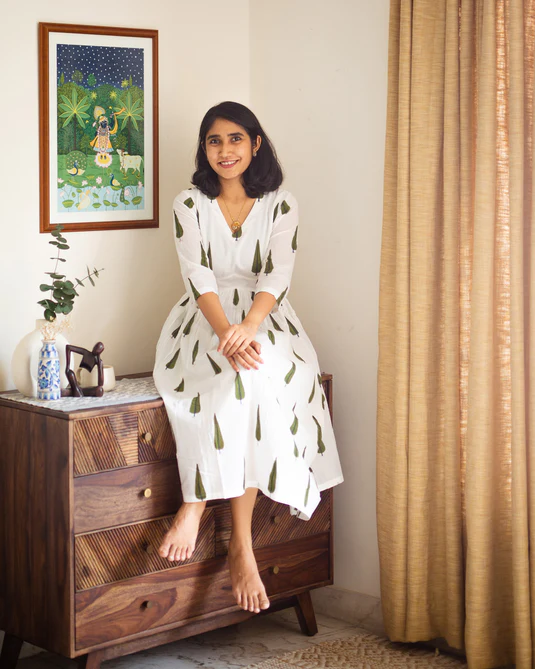 Meet Your Instructor

Hi, I'm Shivani.
I'm a Naturalist Gouache Artist and Art Educator (and colour mixing geek!) based in the sunny city of Chennai, in the South of India.
I discovered the joy of painting with gouache in 2020. Since then I've been painting with the medium every single day, while helping other artists fall in love with gouache too, through workshops, my Youtube channel, and online courses.
It gives me so much joy to share my knowledge with my students, and watch their eyes light up as they discover that they're capable of more magic than they thought. ✨
I invite you to experience that magic too.

"This is a perfect class for anyone willing to learn Gouache. Shivani made sure to cover all the basics for beginners right from practicing basic brush strokes, basic curvy strokes, basic flowers and leaves before starting the actual project. The best thing about this class is the way she taught how to compose, sketch and paint a bouquet of flowers. I am too happy that i started my Gouache art journey by completing her class. Thank you, Shivani."

- Christina J
[Paint Florals with Gouache]

"Color theory is a subject that anyone who wants to learn how to capture color in paintings must learn. I have been looking for both a course on learning water based paints, and a proper color theory class. Shivani combines the two, although color theory can be applied to any medium you use. Her course was well organized, and very easy to follow. I learned some important details about color mixing, and feel that I am on a good path to continue learning how to create color. Highly recommended."
- Diana Martinez
[Colour Theory and Colour Mixing Masterclass]

Learn At Your Own Pace
No Monthly Subscriptions
Pay Once and Gain Lifetime Access to All Video Lessons

Ask Questions Whenever You're Stuck